to show the work of büro ole scheeren in germany
The German architect Ole Scheeren, widely known for the innovative geometries of his skyscrapers, announces an exhibition of his work at the Karlsruhe ZKM | at the Center for Art and Media. The show presents a comprehensive collection of his greatest works, which, with their sculptural and monumental designs, aim to "form a stage for human life".
The exhibition entitled "Ole Scheeren: Spaces of Life" shows the impressive range of the architect's projects since the founding of the Ole Scheeren office in 2010. These works, many of which are now iconic, together demonstrate not only functionality, but also the "fantasies and emotions". ' of those who live and work indoors. This search for "imagination" as a catalyst for design exemplifies what Scheeren calls "form follows fiction".
While his designs are driven by these experimental ideas, the architecture is largely shaped by complex and technologically advanced systems. Despite their often enormous dimensions, these intricate systems retain the focus on "specific and unexpected solutions to people's lives".
Ole Scheeren Portrait at the ZKM | Picture by Felix Grünschloss
Staging of the "living spaces" in the zkm
'Ole Scheeren: Habitats' will open this December at the ZKM | Center for Art and Media in Karlsruhe, Germany, the architect's first solo exhibition. The "experience of architecture" is presented through a series of immersive installations in the large atriums of the exhibition space.
Peter Weibel, artistic and scientific director of the ZKM, says: "Ole Scheeren's projects are the result of intensive experimental urban field research. They are stunning aesthetic solutions to social and environmental considerations. Architecture becomes a living organism in which all components, from people to plants, are part of an active idea of ​​living together.'
Get a first look at selected works to be shown this December: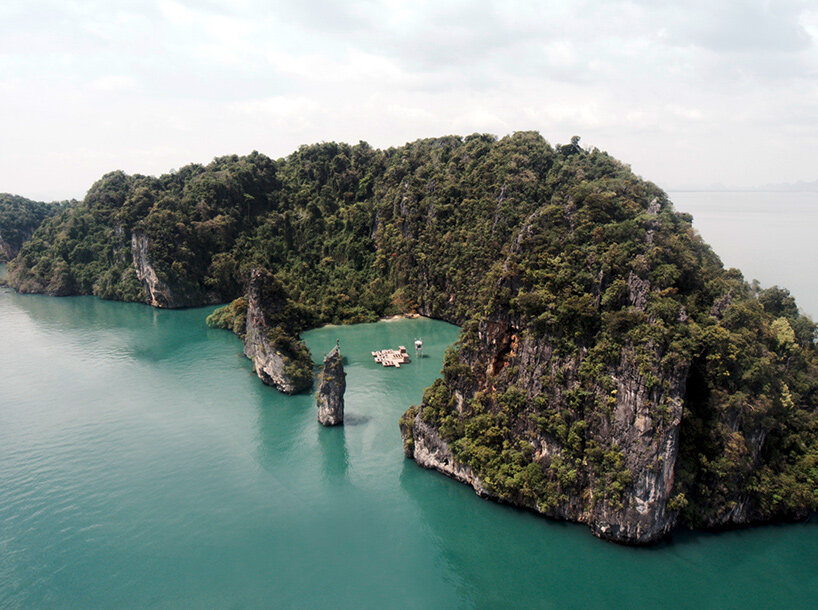 Archipelago Cinema in Thailand, 2012 | Image by Piyatat Hemmatat © Buro OS
Archipelago cinema
In 2012 Büro Ole Scheeren completed a floating auditorium in a blue lagoon in Thailand. The work is designed in harmony with its idyllic location, surrounded by a "porous enclosure" with a backdrop of huge rocks. He writes: 'The thought of watching movies here seemed surprising: a screen nestled somewhere between the rocks. And the audience… floating.'
The design of the "Archipelago Cinema" was driven by an imaginary experience where visitors floated "like driftwood" across the sea on a cluster of small islands or rafts.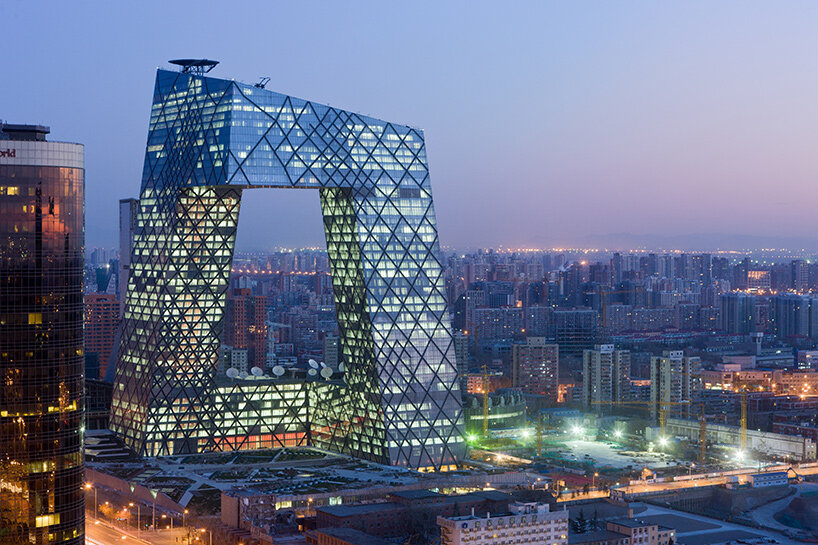 CCTV by Rem Koolhaas and Ole Scheeren, Beijing, 2012 | Image by Iwan Baan © OMA
video surveillance
Ole Scheeren and Rem Koolhaas' CCTV headquarters has become an icon in Beijing since its completion in 2012. Rather than aiming for the ultimate height, the team hoped to form an "iconographic constellation" of two towers that together incorporate the urban context.
These two towers rise from a single partially subterranean platform and rejoin at the top to create a cantilevered connection. CCTV is secured for personnel and technology as well as open to the public. This is achieved by integrating its own "public loop" that visitors can access. Here the public is invited to learn and see the television manufacturing process while enjoying sweeping views of the city.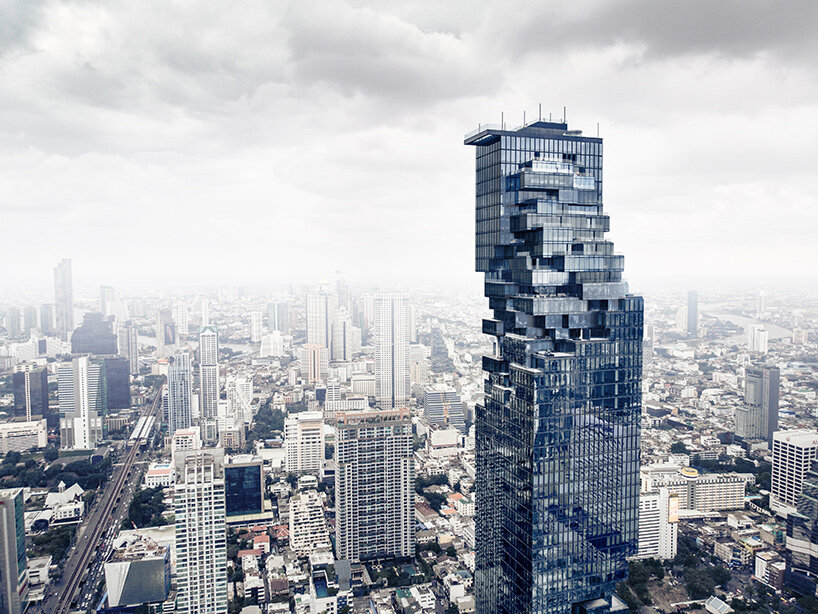 MahaNakhon Skyscraper, Thailand, 2016 | Image by Maxx Nikonov © Buro OS (more here)
mahanakhon
MahaNakhon is a 77-story high-rise complex that rises 314 meters above Bangkok's CBD. As Thailand's tallest building, the design dismantles the typical tower and podium typology to create a skyscraper that gradually dissolves as it flows downward. Cascading indoor/outdoor terraces evoke the shifting ledges of a mountain landscape.
The "cube", an adjacent free-standing seven-story structure with corresponding terraces, creates a spacious outdoor atrium. This in turn forms a network of social, dining and leisure spaces that serve both residents and the public. At the front of the tower, MahaNakhon Square is designed as a public space for planned and impromptu cultural events.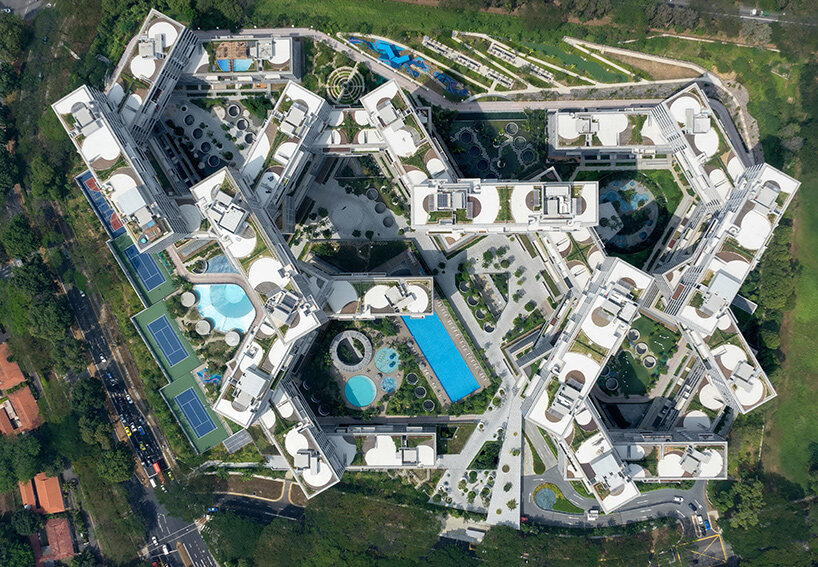 the Interlace by OMA / Ole Scheeren, Singapore, 2014 | Image by Iwan Baan © Buro OS (more here)
the interlace
Singapore's The Interlace apartment complex opened its doors to residents in 2014, six years after the project was first commissioned. The development consists of 31 blocks of flats, each with six floors, and includes an extensive and integrated network of private and communal spaces. Instead of clusters of isolated towers, the scheme reinterprets the ideas of contemporary living, with horizontally connected volumes creating a more connected and less isolated living environment.