"More than white house" reclaims coastal identity
The PLAYstudio architectural team designed a residence in Spain's seaside city of Alicante, recapturing the local architectural identity. The More Than White House 1 is the first in a series of mid-range villas that seek to transcend the paradox of pristine white as a sterile symbol of both popular architecture and luxurious coastal homes. Interested in reproducing the design styles of the modern Spanish era, the studio created this white two-story home in coastal 1960s typologies. From the exposed structural grid to full brick or lattice finishes, this building defies importation of global architectural clichés while modernizing the facade of the white Mediterranean coast. Following the aesthetic reference that characterizes the area, the residence adopts the white color as its main feature and presents it in different textures. In contrast to the cubic single-family houses of the same construction, it claims to be "More Than White House".
Structural lattice in white backdrops the long swimming pool | all pictures by Luis Díaz Díaz
Sophisticated grid patterns frame a "white on white" landscape
One of the main limitations of the design was finding a 25m swimming lane on the property. Following the shape of the swimming pool, the house forms an L-shaped layout around and above the water. The volume is formed in two floors and takes advantage of the unevenness of the terrain to create interesting masses and bewildering geometries. The transparency of the grid along the structure establishes communication between the interior and exterior zones. The visible lattice consists of bricks in which various intricate patterns are assembled the studio's playful signature. The More Than White House builds a strong identity in the Alicante coastal landscape using matte brick finishes, satin finished joinery and glazed grilles. This project frames a "white on white" landscape of Mediterranean architecture.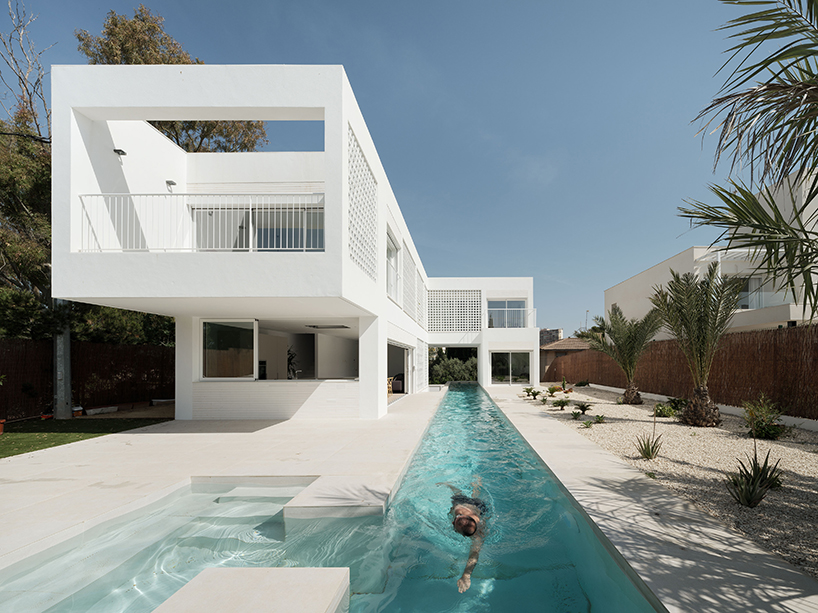 Front view of L-shaped family house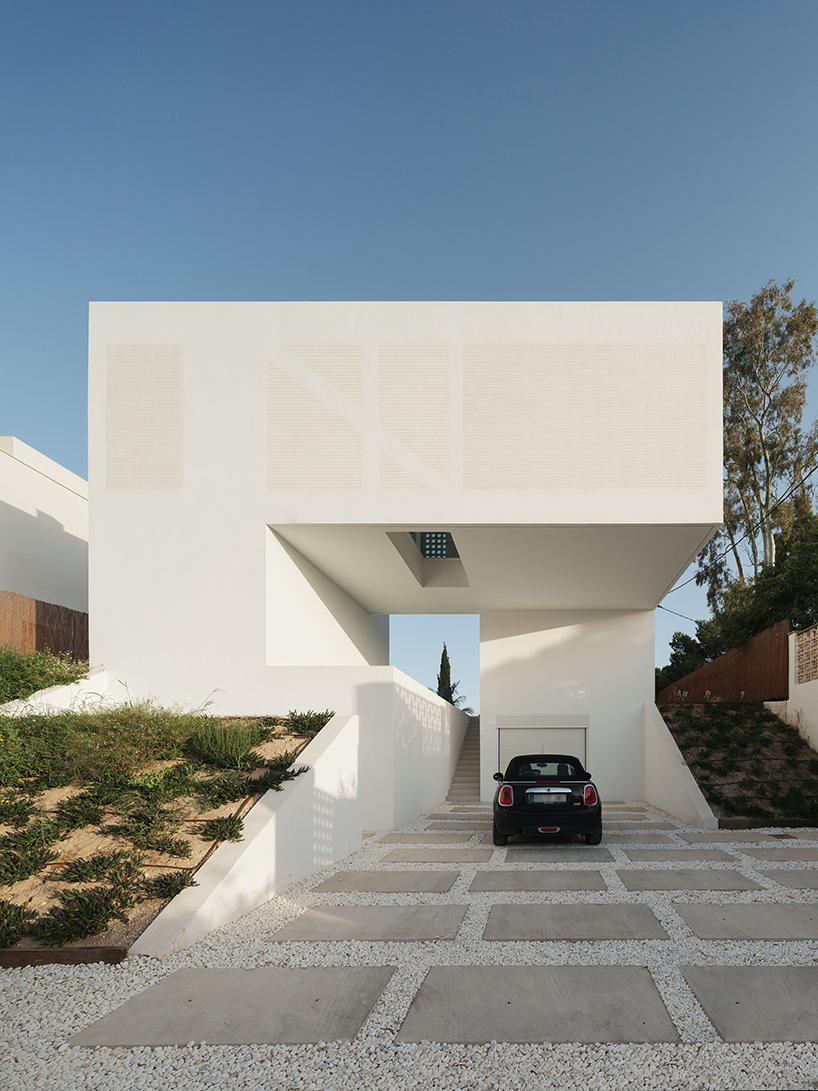 the interesting geometry of the entrance