Squashed on a Architecture Architecture's 84-square-meter Periscope House, flanked by two sun-kissed neighbors, was once an archetypal inner-city working-class home in Melbourne's Richmond.
The original cottage's cramped spaces and worn, dated finishes gave off a gloomy impression, compounded by the lack of natural light, which was so dramatically lacking that a room in the center of the house had no windows at all.
Today, thanks to a clear owner's eye and a sensitive response from Architecture Architecture, the home has been redesigned to meet the owner's desires for plenty of sunlight, crisp white finishes and warm, inviting wood carpentry.
Nick James, design director at Architecture Architecture and project leader for Periscope House, describes the site's response to inclusion.
"We bring light right into the center of the home," Nick says, adding that the new design also draws the courtyard into the heart of the home, which has led to the home's name: Like a periscope, it now seeks the sun with it vertical design. "The periscope brings the light and the view into the dark depths," adds Nick.
And it's not just light that has been added to the home. Carefully thought out wooden furniture has been incorporated throughout the plan to provide storage space for the owner's vast record collection and nooks for guests to gather when the client is entertaining. Benches next to the courtyard, now visible from the entrance of the house, provide a seamless transition between the inside of the house and the outside.
"I really see this project almost as a big piece of carpentry," says Nick.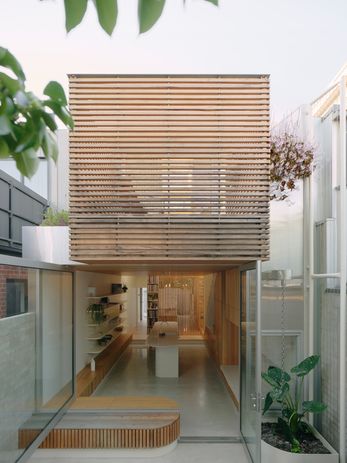 Another addition is the home's bathroom: the redesign envisaged pushing out the roof of the workers' home and creating vertical space for wood slatted screens, which surround an elegant white tub and draw the eye to the new skylight.
Along with the ground floor gardens, added to the plan to create a green cascade and soften the façade, it is clear that the vertical thinking behind Periscope House was carried out across multiple elements to provide a determined response to the to achieve location.
As Nick says, "It's about creating that sense of space, generosity and light."