Protesters rallied outside the Chinese consulate in Sydney on Sunday in support of the Hong Kong protester who was beaten on Monday Chinese consulate in Manchester.
Started by Aus-Hong Kong ConnexAn organization set up in April to help Hong Kong migrants new to Australia, the protest was organized to condemn the beating of a Hong Kong man living in the UK by the Chinese consulate in Manchester, England, and the British urging government to take action.
On October 16, the day of the 20th Chinese Communist Party (CCP) National Congress, Hong Kong residents in the UK protested in front of the Chinese consulate General in Manchester to protest the CCP and its leader Xi Jinping.
Among the protesters who displayed banners reading "Heaven will destroy the CCP" in front of the Chinese consulate was Bob Chan, a 30-year-old Hong Kong man dragged to the consulate and beaten by several employees in riot gear, resulting in him being hospitalized with injuries.
Chan tried to stop staff from taking a large poster depicting a caricature of Chinese leader Xi Jinping as a naked emperor.
The incident has sparked international condemnation. British lawmakers have asked the British government to do this Expulsion of Chinese diplomats who were involved in the beating. Four Chinese diplomats were named to be involved in the attack, including Zheng Xiyuan, the Chinese consul-general in Manchester, who admitted beating people on October 20 but admitted no wrongdoing. He also stated that Attacking the demonstrators was his duty.
"Say no to violence": protest organizer
Ms Lam, vice chair of Aus-Hong Kong Connex, said they organized the protest in Sydney to show their support for another Hong Konger.
"There was a call for people across Hong Kong, people around the world in many major cities to gather in front of the Chinese consulate to say no to the violence that is going on [been] done at the Chinese consulate in Manchester," she said. "We think all people in Hong Kong should say no to this kind of violence."
Lam believes it is the first time a protester has been dragged into a Chinese consulate and beaten by staff and is unsatisfied with the British government's response.
"They should be declaring that this is illegal within a few days or a week," she told the Epoch Times. "I hope that the British Government [can] stay strong and take care of yourself [of] these abnormal acts of violence and I hope there will be an investigation.
"If you [are] found guilty, they will be charged… They must be bound by the law."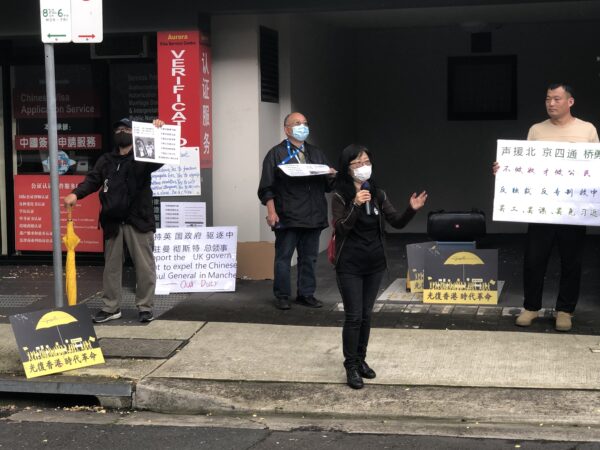 Kerry Wright, a teacher, writer and humanitarian, spoke at the rally.
"Is it a shock when a protester is dragged into a consulate and beaten up by the consular in the UK? A shock for all of us? Of course. Human rights are important. The General Statement [of Human Rights] important," she said.
"I hope Hong Kong will return to the country where people live in love. Whether you like going to mainland China or whether you want to go to other parts of the world or not is irrelevant."
Kerry also condemned the Chinese communist regime for other human rights abuses, such as the imprisonment of Uyghurs in the Xinjiang region and children being forcibly separated from their parents and being asked to change their religion Tibet.
"This world is not just about money. It's about people's welfare," she said. "I think as a teacher, an Australian teacher, I want to say that from the bottom of my heart. I admire any of these people who come here on a Sunday."
The protesters performed "Glory to Hong Kong," a symbolic song of Hong Kong's pro-democracy movements, and held images of the same caricature of Chinese leader Xi Jinping that Bob Chan wanted to protect outside the Chinese consulate in Manchester.
Some also hung slogans from Peng Lifa, the man disguised as a construction worker Banners unfurled at a flyover in Beijing Days before the 20th National Congress of the CCP.
The banners criticized the CCP, called for the regime's zero-COVID approach and called for democracy.
"We don't want PCR tests; We want to eat. We don't want lockdowns; we want freedom. We don't want lies; we want dignity. We don't want a "cultural revolution"; We want reforms. We don't want a leader; We want votes. We don't want to be slaves; we want to be citizens," read the banners.
Lily Zheng contributed to this report.